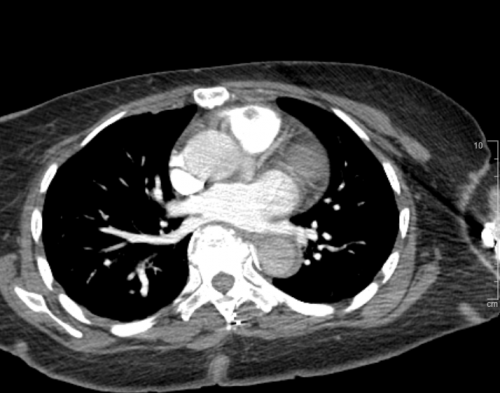 Dear colleagues/friends,
I need your help with a case that we saw last week. I am not sure we know exactly what is going on with her. I am wondering if you see a similar case before, or how would you manage her if she is yours. Will tell you later what we decided to do.
Appreciate your help!
tnx
History:
66-year-old female with PMH significant for hypertension, type 2 diabetes mellitus, and chronic pain (followed at pain clinic) presents to ED for evaluation of chest pain.
Patient reports intermittent sharp, achy chest pain beginning 3 days ago. Mostly located above and around left breast with some radiation into left arm. She also reports mid upper back pain at times. Exacerbated with deep breaths but denies alleviating factors.
She denies prior hx of DVT/PE, recent prolonged travel, recent surgeries. Denies fever, chills, palpitations.
ED workup mostly unremarkable but D-Dimer is elevated at 1580. Chest x-ray negative for acute process. CT a chest showed filling defect pulmonic valve. Questionable for focal thrombus, potentially infected vegetation, or soft tissue mass/neoplasm.
Attached images from CT (with contrast) and TEE.